Welcome to Letterfrack Farm Self-Catering Cottages at Heatherhilll, letterfrack, Connmera, Co Galway
---
Letterfrack Farm is a small horse and pony farm located at the foot of Diamond Mountain and beside Connemara National Park. The horses and ponies are stabled at the end of the farm beside the exercise arena. The ponies are award winning Connemara Ponies and the horses compete in dressage, working hunter and show jumping. You are welcome to watch the ponies exercising in the arena at Letterfrack Farm.
Two pot-bellied pigs live by the stables and sometimes wander around the cottages. You are welcome to feed them during your stay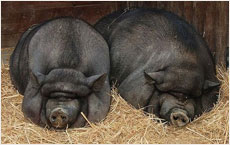 Our hens are housed close to the pony arena and wander around the farm during the day. You can collect fresh eggs during your stay. The cats and dogs will find you in their eternal search for extra food. Letterfrack Farm is a tranquil place to enjoy a holiday away from it all.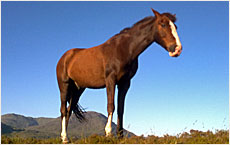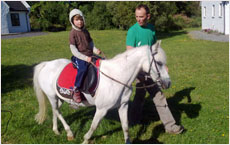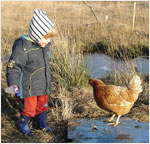 Hens and chickens. You can visit and feed the hens and chickens every day but be early if you want to take the eggs home to your cottage for breakfast!
Cats and dog. You don't need to look for the cats, Princess and Lily or the dog, Minnie, they will come to you looking for food and attention.